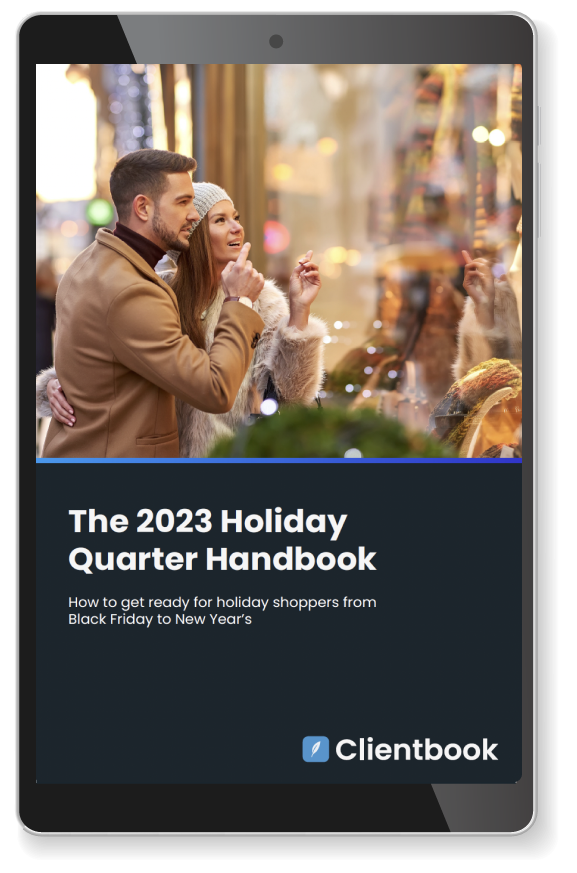 eBook
The 2023 Holiday Quarter Handbook
How to get ready for holiday shoppers from Black Friday to New Year's
What's inside?
We're nearing the end of 2023, and the holidays are on everyone's mind. This time of year is like the Superbowl for retailers.
In fact, more than a quarter of retailers' yearly sales happen in November and December. This makes the hectic holiday season a major focus for retail stores across the country.

So, how can retailers prepare for the onslaught of holiday shoppers and make the most of this year's holiday shopping season?
In this handbook, we'll cover this year's latests consumer trends, strategies to keep in mind this holiday season, and how Clientbook can help you make the most of the holiday rush.
Why you need this guide:
You'll learn how to decode popular holiday lingo today's consumers are using.

You'll get valuable insights on the top 2023 holiday shopping trends you need to prepare for the rush.

You'll have an inside look at how Clientbook can help retailers get more customers in the door this holiday season.